graceful & grateful
We talk about about being graceful at The Ballet Physique. But in real life, being graceful also means being grateful. Get ready to work, write, and reflect—in a way that will transform your body and ignite a fresh new perspective on life. Join us October 14 through November 12 for our new 30 Days of Gratitude Challenge, and experience the magic that results from a simple act of gratitude. 
Participant Entrance Fee: $25.00.

Includes a custom BP gratitude journal, a take-home tracking calendar, and the chance to earn 50-90 Perkville points when you complete the required classes + journaling.
And for the grand finale… one lucky participant will win $150 in cash for the charity, school, or non-profit organization of their choice!
We'll announce the winner at a special "sip and shop" event on November 13 at 7pm. Toast to your success with a glass of champagne, shop our Kloz Party trunk show, and mingle with your friends and barre mates.
What is the challenge objective?
Your objective is to take 15 classes in 30 days and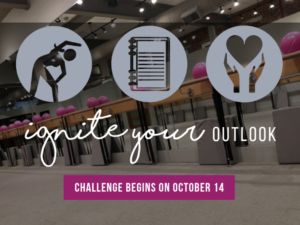 express daily gratitude by writing down 3 things you're grateful for during each day of the challenge. If you can tackle both of these objectives, we'll send 50 Perkville loyalty points your way!
Are you nervous about being able to take 15 classes? We get it. Life happens. But we encourage you to register anyway. You'll still have the chance to earn loyalty points by participating in weekly extra credit activities (like trying a Physique Stretch class or attending a new time slot).
You'll also experience the lift-altering benefits of making gratitude a part of your life.
"I know for sure that appreciating whatever shows up for you in life changes your personal vibration. You radiate and generate more goodness for yourself when you're aware of all you have and not focusing on your have-nots." -Oprah Winfrey
"You can't be fearful and grateful simultaneously, so if you want to conquer those [emotions], maybe it's time to train your nervous system to go into gratitude more naturally." -Tony Robbins
"Where there is gratitude, there is the realization that we can find happiness and peace even when things are not going our way." -Ariana Huffington