Dance (and pulse and tuck and burn) with us on YouTube! Here you'll find a selection of short workouts, technique tips, and single exercises. All perfect for exercising at home or on the go. In the meantime, we're working on a streaming video program. Check back for updates!
If your style is more old school, we do offer a DVD Collection! It consists of Signature Sculpt (60 minutes) and Amped Up (45 minutes). You can purchase these at our Littleton studio or on Amazon. The clips at the bottom of the page will offer a glimpse inside each workout.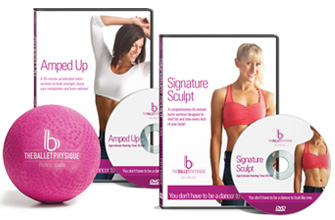 DVD Collection + Exercise Ball
The Collection includes Signature Sculpt, Amped Up, with an complimentary Ballet Physique exercise ball (optional). Commit to doing both dvds on a regular basis and see a difference in how your clothes fit in just 30 days!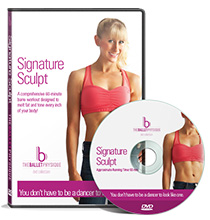 Signature Sculpt
A 60-minute full body workout DVD that concentrates on toning the muscles using lighter weights, intense exercise sequences, and ballet-inspired positions. Perfect for all levels. No ballet barre required.
$11.98
Buy Now >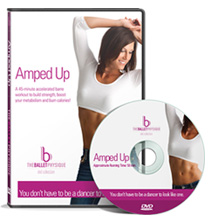 Amped Up
A 45-minute accelerated workout that focuses on building strength and boosting your metabolism through the use of heavier weights and fast-paced, efficient exercises. No ballet barre required. Perfect for all levels.
$12.74
Buy Now >
Please note: A ball pump is not included with your purchase of the DVD Collection.
DVD Clips