No need to endure shipping delays or wait for your local store to restock! The Ballet Physique has all the equipment you need to "barre from home". On sale now are the same pink playground balls and booty bands that are used at the Littleton studio. These items can be purchased alone or as a discounted bundle (up to $10 off your order when you buy 3 items). Don't miss out on the chance to get this versatile and lightweight equipment into your living room—for an even more spectacular workout!
Booty Band Sets are $14.99 each
Included: light, medium, and heavy resistance levels
Playground Balls are $14.99 each
Included is a straw and a plug for easy inflation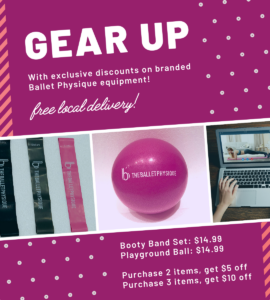 To purchase, call 303-287-2345 or email [email protected].
All we will need is a credit card on file in your Mindbody account.
Because we are taking social distancing seriously, we will not be opening the Littleton studio for pick-up hours. Instead, our studio owner Kristen will deliver equipment to your front porch if you live in the zip codes of 80120, 80123, 80127, or 80128. If you live outside these areas, we can arrange pick-up at Kristen's home.