October 15 through November 11
This year's fall challenge is designed to strengthen your body and ignite your soul through a focus on mindfulness—in class and in life. For 28 days, we will immerse you in activities that foster learning, growth, balance, restoration, kindness, and gratitude. Ultimately, we want to help you become a more mindful person in the world. If your life has recently felt scattered, chaotic, and pulled in too many directions, you've landed in the right place. We created this challenge for you.
Check Out Our Weekly Mindfulness Blog
Participant Entrance Fee: $25.00. This fee includes a portable on-the-go tracking calendar to record your classes and mindful actions. You'll also receive weekly video lessons from instructors, delivered to you personally via email.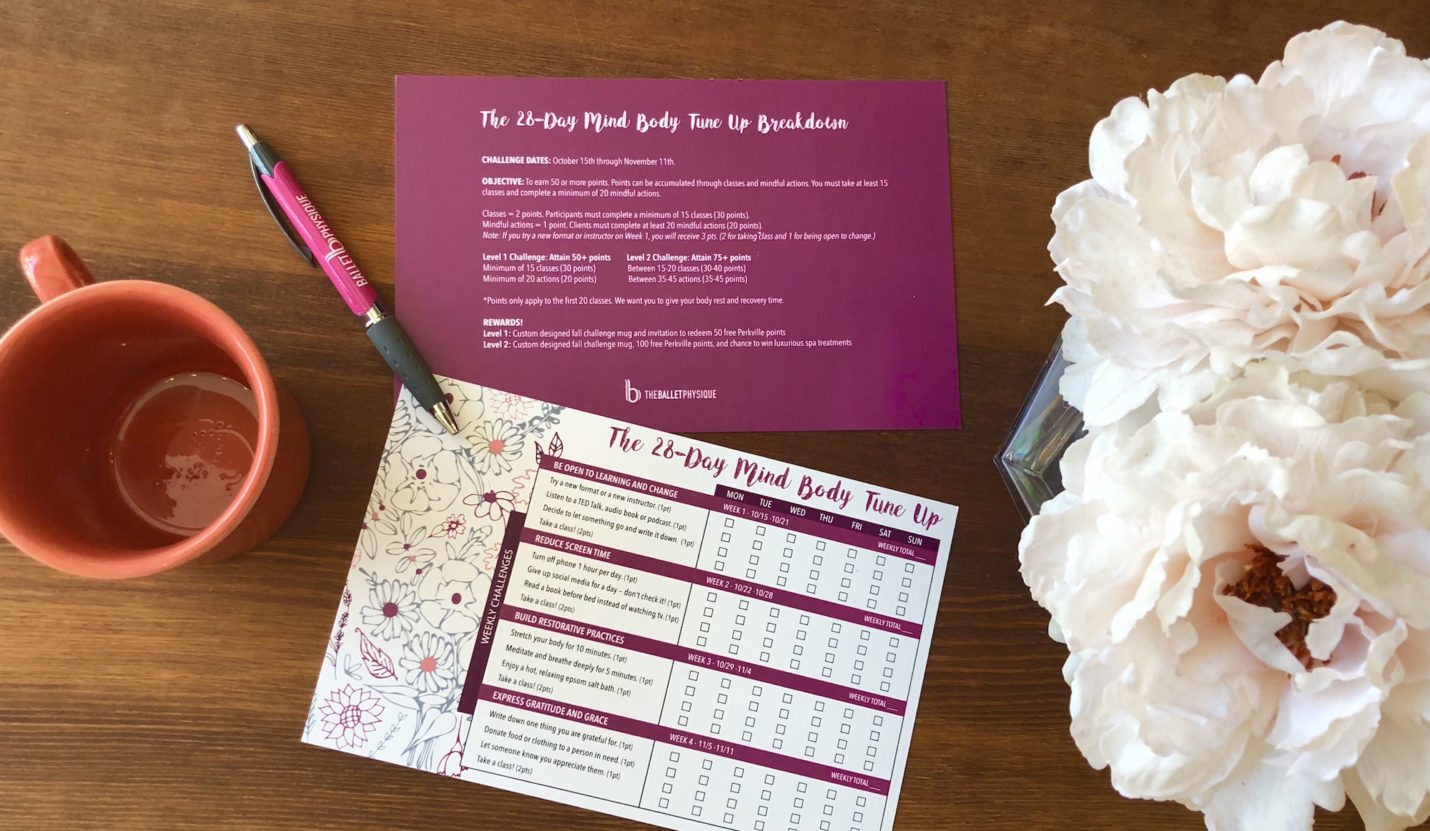 What is the challenge objective? Your objective is to earn 50 or more points. Points can be accumulated through classes and mindful actions.
Classes = 2 points. Participants must complete a minimum of 15 classes (30 points).
Mindful actions = 1 point. Clients must complete at least 20 mindful actions (20 points).
The mindful actions are an extracurricular—yet very important—part of the challenge. They are broken down into weekly, bite-sized themes so that you can build your mindfulness practice consistently and gradually. Each theme incorporates 3 mindful actions, and thus you can earn up to 3 points per day in the respective weekly category. If you end the challenge with enough required points, you will receive our exclusive fall challenge gift. It's a BP-designed gratitude mug filled with a coupon for 50 bonus Perkville points. What a treat!
Are you ready to take mindful living to the next level? If so, we challenge you to soak up more points by putting in extra credit.  If you attain 75 points or more through classes and mindful actions, you'll get not only the gratitude mug, but also a coupon for 100 bonus Perkville points and an entry to win a luxurious spa getaway.
---
RULES:
Challenge begins on October 15 and ends on November 11
You can only earn points from a maximum of 20 classes. Because the challenge is about mindfulness, we want you to balance your workouts with appropriate rest.
It goes without saying, but be mindful of honesty! It's an honor-system based challenge.